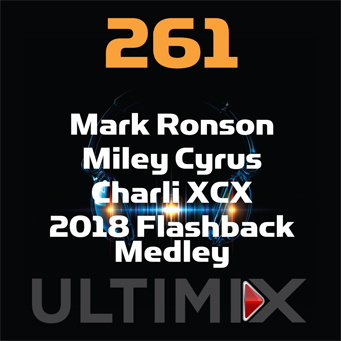 THE 2018 FLASHBACK MEDLEY (PT...
ABOUT US
What Is Ultimix and Why Do I Need It?
Back in 1986, Les Massengale and Brad Hinkle who were local DJs in Greensboro, N.C. began what has become the longest-running promotional remix service for DJs. Way before the advent of CDs and digital MP3 files, Ultimix was originally only offered as a 3 vinyl record set. Soon after, Ultimix became the industry standard for DJs around the world. It was the keen programming of songs and creative mixing by Les, Brad and their team that made Ultimix a true pioneer in music promotion. Today, we still share the same commitment of offering creative and consistent remixes that put you, the DJ, in the spotlight.
Ultimix is a promotional tool for DJs who want an edge over their competition. Whether you're a mixshow, club or mobile jock, we've got something programmed specifically with you in mind. You can get the best remixes sent to you automatically as they are released. Or you can simply pick and choose the specific products that fit your needs.
We are all DJs at Ultimix and know what fellow DJs want and need. Simply put, Ultimix offers consistent, quality mixes of the top hits delivered in a timely and professional manner. We also turn you onto tracks that might just be breaking and will be big in the coming weeks. To do this, we work closely with our label partners and associates at radio.
But, as a valued client, we also want your voices to be heard and tune us into tracks that are working well in your particular region. Whether it's on our Ultimix Forum, Facebook page or here on our site, we provide you with a direct line of communication.
For those who have been with us since the beginning, we say Thank You. It's humbling to know we have loyal subscribers that are still in the DJ game after 25 years! Since then, formats and delivery methods for music may have changed, but Ultimix will continue to do what we all love to do—make music for DJs!
ULTIMIX
is our core product. Ultimix is a single CD or double 12'' vinyl that contains at least 10 exclusive mixes of the most-wanted dance (house, trance, dubstep) and Top-40 music heard on the radio. Programming is done by carefully researching radio airplay monitors, record pool reports and what our subscriber DJs tell us is hot for them in the club. We base most or our mixes on the original radio edit or a label-commissioned remix. But we take these label offerings to the next level and add creative, effective production. By going above and beyond the regular versions that are offered to everyone, we give you an exclusive edge. We create unique, mixshow-length/commercial club versions where none existed before. We also fix minor structure flaws and provide seamless and consistent remixes every month. In addition, there are also usually at least one or two full production "Ulti-Remixes" per issue. It's these must-haves that make Ultimix shine above and beyond everyone else. Again, these are exclusive tools that DJs need to stand out from the pack. From Britney to GaGa and J.Lo to Ke$ha…Ultimix has you covered!
FUNKYMIX
is our satellite series devoted to the best urban, hip-hop and R&B music. Like the Ultimix series, it is also produced as a single CD or double 12''. Lately, the line between rhythmic radio and Top-40 radio has become increasingly blurred. Crossover artists such as Rihanna, Nicki Minaj, Lil' Wayne, Black Eyed Peas and Cee-Lo Green are what we program Funkymix around. Then, we fill in the gaps with regional radio and club hits from budding artists like Wiz Khalifa, Jeremih, New Boyz and Gucci Mane. We also break new artists to the mainstream like Far East Movement, and LMFAO. The majority of our mixes are edited clean. However, on bigger tracks, we also offer explicit mix choices. Each is labeled as such and gives a variety of DJs the option to program clean for sensitive radio ears or go more hardcore for clubs. At every turn we have you, the DJ, in mind. Whether it's offering two different mixes for a popular song or providing various programming options, we make you the star!
SPECIALTY PRODUCTS
are issues we produce that are suited to a wide range of DJs. They aren't as frequent as regular Ultimix and Funkymix releases. Therefore, they are not part of our regular, ongoing subscriptions. But they are an important tool in your musical arsenal.
ULTIMIX MEDLEY COLLECTIONS
are double disc sets that contain the best medleys and megamixes we've done over the years. Many of these mixes have become staples among wedding jocks and retro DJs everywhere. From classic rock and disco to 80s new wave, Ultimix Medley Collections are party starters!
BACKSPINS
is our series that highlights the best retro music from the 70s, 80s and 90s. It's produced as only Ultimix can do it! Each single disc set contains creative mixes from start to finish and solid production that make each collection a breeze to program. Whether it's a retro night you're playing at a skating rink, or a class reunion from way back when, Backspins needs to be in your collection.
RHYTHM & SCRATCH COLLECTIONS
are production tools that you can use in radio imaging or programmed into sets on the fly. These contain classic beat loops, samples and acappellas that you can individualize to fit your own needs.
BIOS
Mark Roberts

What Was Your First DJ Gig?
Started DJing in 1987 at East Carolina - The Elbo Downtown Greenville

Musical Influences:
My musical influence are not very DJ oriented, but they are mine. :) Elvis Presley, Bruce Springsteen, Bob Dylan, ELO, and YES.

What Was Your First Mix For Ultimix?
My first mix was "Big 12'" for Funkymix 10. I remember my grandmother asking me what my first song I remixed was and me having to say "Big 12"". She replied with "Oh my!" Also I remember my 1st A side of Ultimix. Being the 1st cut on the A side was a huge deal back them. I was working on "Remember The Time" by Michael Jackon, on tape by the way, and Brad Hinkle walked in ask what I was working on. I told him and he said.... "YOU are doing Michael Jackson!!" I can still remember that.

What Is Your Favorite Ultimix Mix?
I would have to say my favorite mix so far is "I Love Rock n Roll - The Medley on Ultimix 50. That was was my first Medley and really inspired me to due more medleys and to take chances. No one had ever done rock and roll on Ultimix and it really broke down some door here. Here is a little story regarding the mix. I was working on "I Love Rock n Roll - the Medely" and Brad Hinkle walked in around 5 like he normally would and asked what am I working on. I told him and he replied, "Rock and Roll on Ultimix - are you CRAZY!!" I just smiled and keep on working. Medleys take a huge amount of time, effort and planning. I just love the challenge!
Stacy Mier

What Was Your First DJ Gig?
Thumper's Teen Club - Enterprise, AL / 1987

Your musical influences:
I have always enjoyed "music"... I am inspired by all... some of my favs... Dre, Rick Rubin, Prince, Icey, Max Martin, Red One

What Was Your First Mix For Ultimix?
My first mix "assignment" was actually Shackles for Lookin Back 1... first Ultimix... Lift U Up - K5 - (Ultimix 64)... first Funkymix... Let's Do It - Quad City DJs (Funkymix 27)

What Is Your Favorite Ultimix Mix?
no favorite... I like "most of them"... for different reasons.
Jeff Richards

When Did You Begin Your Job At Ultimix?
October, 1998

What Was Your First DJ Gig?
Bourbon St., Winston Salem, NC 1990

Currently?
Warehouse 29, Greensboro NC Since 1993

Musical Influences:
Being a child of the 80s, I particularly like artists that dominated early MTV. The music and images made a strong connection with me. Duran Duran, Pat Benatar, Prince, Heart, Depeche Mode and Dead Or Alive are favorites. I'm also a big fan of the glam and theatrics that emerged in the late 70s. Blondie, Kiss and Meatloaf seem to still hold up for me. Again, it's the combination of a dramatic image/story with the music itself.

As far as dance music goes, I like freestyle that was born in the mid-late 80s. I was just getting introduced to the clubs and this is what was bangin' at that time. Artists and producers like Will To Power/Bob Rosenberg, Expose'/Lewis A. Martinee' and Company B/Ish Ledesma still can be found on my iPod. I also have some guilty pleasures from the Eurodance era of the mid 90s. Culture Beat, Spacemaster and Masterboy are among my favorites.

Current dance stuff has gotten a bit derivative. But DJs/producers that catch my ear include Chris Cox, RedOne, Max Martin and Shelback.

I also like more organic, rock stuff. Mostly 70s and 80s classic rock and hair metal. Some great songwriters and producers came out of that era. They continue to make great music today. I still keep an eye out for projects that involve Holly Knight, Desmond Child, Jim Steinman, Mike Chapman, Billy Steinberg and Tom Kelly.

Favorite Ultimix Mixes:
Say It's Gonna Rain-Will To Power (UM 20)
Come Go With Me-Expose' (UM 7)
All She Wants Is-Duran Duran (UM 26)
Think-Information Society (UM 25)
You're Not Alone-ATB (UM 92)
Black Cat-Janet Jackson (UM 36)
Turn Me Out-Kathy Brown (UM 100)
Johnny Locklear

You've Been With Ultimix How Long?
Since August, 2001

Your first DJ Gig:
The ROTC Military Ball, Smith High School 1990. Now, after 16 years in various club settings, I currently have my own mobile DJ company.

Your Musical Influences:
Conway Twitty, Elvis Presley, Ronnie Milsap

What Was Your First Mix For Ultimix?
"Get No Ooh Wee" on Funkymix 90

What Is Your Favorite Ultimix Mix?
"L'Amour Toujours (I'll Fly With You)" by: Brisby & Jingles on Ultimix 157
AFFILIATE DJ BIOS
DJ Richie Rich

Where Do You Reside?
Augusta, GA

Where Do You DJ?
Resident DJ at Vue in Augusta

Besides Remixing for Ultimix, What Other Projects Are You Working On?
Producing tracks for Atlanta recording artists. I also recently released the original album, "Filthy Rich". Also have been working on the upcoming album for Freak Force Crew.

Other DJs/Producers Who've Been Influential?
Arthur Baker, Rick Rubin, Cameron Paul

Your Favorite Ultimix or Funkymix track you remixed?
Take Me Home Tonight (Backspins 3)
DJ Rix

Where Do You Reside?
Atlanta, GA

Where Do You DJ?
Various clubs throughout Georgia: Altanta, Athens, Macon

Who Are Other DJs/Producers That Have Been Influential?
Chicago DJs Bobby D. and Bad Boy Bill

What Is Your Favorite Remix That You've Done For Ultimix and Funkymix?
Love In This Club-Usher (Ultimix 140)
I Love College-Asher Roth (Funkymix 123)
DJ Brian Roche

Where Do You Reside?
I was born in Dublin, Ireland and relocated to the United States when I was 21. I currently live in Boston with my wife and two little girls.

Where Do You DJ?
During the Summer months I DJ at the biggest Saturday night in Boston, hosted by The Water Club in Quincy.

Besides Remixing for Ultimix, What Other Projects Are You Working On?
When I'm not studying for my masters at Berklee; having fun remixing for Ultimix; working on my own original works; I'm working as a Director of Engineering at an enterprise software company. Earlier this year (2011) I celebrated the release of my debut artist album, 'Rubric'. While producing, mixing and mastering an entire album is a great deal of effort, I'm particularly pleased with the final result. Receiving the positive feedback from, dare I say it, fans coupled with hearing my records played at parties is encouragement to continue making music. Almost immediately after the release of 'Rubric' in March, I started work on the follow-up, 'The Success Mess' which will be released in December of 2011 on Smash Fabric Records.

Other DJs/Producers Who've Been Influential?
I draw influences from all types of music but my passion is most certainly club music. Unlike most artists and producers, the first record I purchased was a dance record and I grew up on Ireland's vibrant dance music scene. I am inspired by the works of Eric Prydz, Steve Angello and the Swedish House Mafia. Of late I've been particularly excited about David Guetta's impact on Pop music and I think Top 40 in general has taken an exciting turn for the better as a result of his involvement.

What style of dance music do you like? Particular producers/genres of dance music/DJs?
I'm particularly interested in contemporary Electro; records that have contrasts, drama and strong variations. A good example of this is my own 'That House Beat Track' available on Smash Fabric Records. In my earlier days of producing and DJing I was very much into Progressive house but I've traded that long drawn out sound for the more modern and exciting electro sound. Writing, producing and releasing music that is accessible to a broad audience is extremely important to me at this point in my career.
DJ Strobe
Where Do You Currently Reside?

Pittsburgh, PA



Where Do You DJ?

All over but my current favorite residencies are at Firehouse & Eclipse in Pittsburgh



Any Side Projects You've Got Going On?

Always working on remixes and production & my podcast, mentoring kids & adults on DJing and production, archiving my record collection



Musical Influences (DJs/Producers or otherwise)?

Todd Terry, Dennis Ferrer, Kaskade, Bob Sinclar, Fedde Le Grand, David Guetta (mostly older stuff)


Your Favorite Ultimix Remix You've Done?

Bruno Mars "Grenade" or Adele "Rolling In The Deep"